in this article we are share with you top best 11 app locker applications for android so We fill our smartphones full of our most critical data, from private photos to important messages. Application blockers provide additional protection for Android devices by blocking them and protecting them from others. However, it is not worth installing all the application locks and lockers for Android. Some of them are fraudulent, advertising and unsafe. To make sure you're protected correctly, here are 11 of the best Android app blockers.
Currently contain a lot of confidential data. Our banking applications, application notes, application gallery, etc. must be protected from prying eyes. In addition, when we transfer the device to a child, we may prevent him from accessing the applications on your phone.
How to lock all mobile apps?
So, how do I block my applications? The Android app drawer can provide maximum protection against unwanted access. Although some devices have a built-in application locker, most Android devices do not. Fortunately, there is no shortage of Android apps on the Play Store.
1. AppLock
AppLock is the favorite app of more than 100 million users in more than 50 countries. AppLock is a lightweight app that lets you lock almost any type of file on Android. The most basic features lock your app so no one can access or uninstall them, but you can lock photos, videos, and even contacts and personal messages. The app works in a very simple way. First, you must create a numeric password to unlock the application you want to protect. From that moment on, every time you open the app, you will be asked to insert a defined password. This password window does not allow it even if other users try to uninstall it. The best thing about this app is that you can even hide its icon, so no one knows that you have installed it on your device, but they will figure out if it asks them to insert the appropriate password. AppLock is a fun app. With it, you can add an extra safety net to your device and never have to worry about giving it to a friend.
In addition, you can choose to hide the application, avoid uninstalling and set a delay to re-block. It also includes a power saving mode , so if you use AppLock, you don't have to worry about the application consuming your device's battery. Along with the application lock, the application also brings a camera of photos and videos , and support for add-ons. AppLock is certainly a feature-rich application and works perfectly. The application includes ads but they are rare and not intrusive.
2.AppLock fingerprint
AppLock: the fingerprint (yes, that is the name of the application in the Play Store) is another very popular application in Android and it is deserving, since it contains a lot of excellent functions. There is support for fingerprint scanner, PIN, and you can set different passwords for different applications . You can also configure profiles and ensure that the application locks are activated at a specific time or depending on the WiFi and Bluetooth connection . Along with the applications, the application lock also allows you to lock the system settings, home screen, rotation and more.
In addition, there are interesting features such as the possibility to hide the application, unlock a phone remotely via SMS, "Observer", which as its name suggests captures photos in failed unlock attempts. AppLock: The fingerprint includes ads, but you can remove them through a purchase within the application. In general, it is the application to get if you love to play with a lot of options.
3.Norton App Lock
If you're looking for an app locker from a major security provider, Norton App Lock would be the best choice for you. Symantec, the company behind Norton, has been working in the field of technical security since 1982.
Like all good app blockers, Norton App Lock's primary goal is to protect individual apps from unauthorized access. Several security methods are available. You can lock your apps with a PIN or a lock pattern. It also supports fingerprint protection if your Android device has a fingerprint scanner. You can also lock your photos and protect your applications for social networks, as well as establish parental controls on devices used by younger users. One of the useful features is Norton theft protection, which takes a picture when someone fails to unlock your device three times. Norton App Lock has over a million installations and is completely free – no in-app purchases are required.
4.AppLock by DoMobile
If Keepsafe's App Lock isn't right for you, then AppMock by DoMobile might be. The coolest 100 million users have installed this app, making it the most popular and famous repository of Android apps.
It protects your applications as you expect by locking passwords and patterns, as well as fingerprint scans for their devices. However, it does not just offer application blocking. If you want to protect certain photos or videos, you can completely hide them from your phone using AppLock. Instead, they will appear in your personal repository and will only be available in the AppLock app. The app also has a private browser that provides you with a safe space to surf the Internet without compromising your browsing history. You can also hide notifications for certain applications, stop changing settings, block mobile data and Wi-Fi, and add additional protection using the advanced application "Advanced Protection". This stops AppLock itself from removing and removing your AppLock protection in the process. For some features, such as no ads, hiding AppLock, and adding anti-theft protection (similar to Norton), you need a Premium subscription of $ 0.99 per month or $ 5.99 per year.
5.CM AppLock
Cheetah Mobile, the developers behind the CM AppLock application, does not have a great reputation, all thanks to the overwhelming application recommendations in its applications. That said, the CM AppLock is still a decent application blocker that you can use. The application supports fingerprint unlocking and allows you to block applications and settings such as WiFi, Bluetooth, etc. It also allows you to set a delay in blocking applications and provides the possibility to capture a selfie of any intruder when 3 incorrect attempts are made. In addition, you can choose the background of the blocking page of your photos or get one of the themes within the application. CM AppLock is free and without advertising, so you can try it.
6.Keepsafe App Lock
More than five million users trust Keepsafe, the developer of various security-oriented applications, protecting their applications from the original name. Locking the App . The App Lock interface makes it one of the easiest and most attractive apps blocking apps that can be used on Android devices, which helps explain its popularity.
This locker app includes a PIN and a lock pattern, as well as a fingerprint lock. It divides your applications into locked and unlocked sections, as well as a common section for all your applications, to help you keep track of which applications you have protected. You simply switch the applications you want to block in order to activate the protection. If you're worried about your children, Keepsafe parental controls help block or uninstall specific apps. It also prevents any unauthorized transactions associated with your Google account.
7.AppLock – fingerprint (by SpSoft)
AppLock Fingerprint – a decent application for Android-lock, which has a convenient interface. You can protect your applications with a PIN, pattern or fingerprint scanner. There are options for screen lock and rotation, where you can add applications to lock the screen backlight and screen rotation. You can create different passwords for each blocked application, as well as add a fake icon to blocked applications. He can also click on a snapshot of anyone trying to unlock your apps and send it to your email address.
The app is available in 30 different languages, and you can also upgrade to the premium version to remove ads. However, the free version covers all the necessary functions, and the number of ads in the application is very small.
8.AppLock Fingerprint Unlock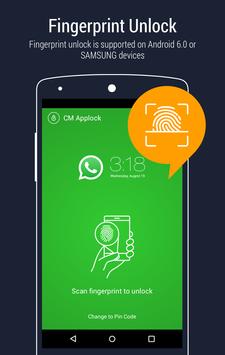 Cheetah Mobile's AppLock Fingerprint Unlock is a lightweight Android app lock that lets you use your fingerprint sensor to lock apps. You can also use a template or create a digital PIN to block the phone application. In addition to standard applications, you can also use it to block Wi-Fi, Bluetooth, incoming calls and phone settings. It has an Intruder Selfie feature that can snap a photo of someone who cannot unlock your apps. You can also set the lock mode and set a timer for it. This Android lock app is completely free without ads.
9.LOCKit app locker
LOCKit is another impressive cool Android application locker that can also protect your personal files. You can use the app to lock your phone screen. It has a built-in file scanner, a phone booster and a notification cleaner. You can use a PIN or pattern to create a basic password. You can even hide the drawing path of the drawing and make it invisible or display the shuffled keyboard when typing.
In addition, this Android application blocker allows you to hide your personal photos and videos from the gallery and provide them in separate storage facilities. There is a power saving mode, an intruder's self-defense, and you can also enable it to prevent the removal of blocked applications. It is free, with no in-app purchases and contains ads
10.Privacy Knight Privacy Applock, Vault, Hide apps
Privacy Knight, designed by the Alibaba group, is a totally free and ad-free application locker that is not very popular but certainly deserves to be. The application allows you to block applications through different methods such as PIN / pattern, fingerprint, facial tracking or through a disguise cover such as hit to unlock, shake or an error message. Together with the applications, you can block incoming calls with Privacy Knight. There are options to avoid uninstalling the application, hide the preview of notifications of applications such as WhatsApp and the secret door to disguise the application as a bookmark. Along with that, the application captures intruder photos that enter the wrong password.
11.Perfect AppLock
Perfect AppLock allows you to protect any application on your device with a PIN, pattern or gesture password. In addition to third-party applications, you can block your Wi-Fi, Bluetooth and data on the Internet. It has a Screen Filter feature in which you can control the screen brightness of individual applications and rotation locks to prevent unwanted screen rotation. The built-in camera can take a snapshot of an attacker after three failed attempts. In addition, you can block outgoing and incoming calls, as well as display false error messages in blocked applications. All functions are available for free, and the application supports advertising.
Conclusion:
If you want to use other applications instead of AppLock, you only need to find the Google Play Store for a different application locks and protection equipment. In addition, you can use our guide to choose the best app for you